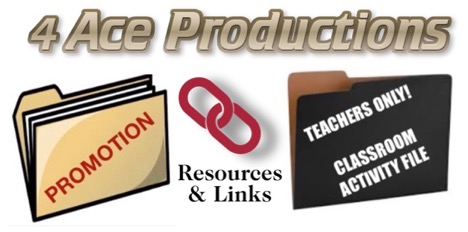 Thank-you so much for the opportunity to share my school assembly with your school. To get the resources for your assembly simply find your school name below and you will find two groups of documents:
Promotional Documents -
My suggestion is to pass this link onto the person who is responsible for "getting the word out" about the program directing them to this promotional file.
Teacher Documents -
These are activities and ideas to share in the classroom. It is entirely up to your teachers as to what they use or don't. Again, I would simply do a mass email with the link I sent to you to each of your teachers and explain that resource materials are available if they wish to use them.
None of this information is necessary for the assembly itself, it is provided to give you resources to reinforce what is shared at the assembly!


Hayward Elementary

READERS ARE LEADERS!

PROMOTIONAL ITEMS
Read Legal Poster
PDF Reading Ad
PDF Reading release
Readers Are Leaders 1 Sheeter
Readers R Leaders Tricks
Optical Illusion Sheet
SOCIAL MEDIA
PDF Facebook Ad Readers Are Leaders
PDF Linked IN Ad Readers Are Leaders
PDF Twitter Tweets Readers Are Leaders
Snapchat Chatter Readers Are Leaders
TEACHER PACKET
Biography Classroom Activities
Bookmarks
Family Reading Activities by Reading Rockets
Packet Evaluation Readers Are Leaders
Parent Letter
Readers Are Leaders Evaluation
Reading & Creativity by Lesley Yarbrough
scholastic-one-hand-book-review
superhero-word-search-printable
Teacher Letter Readers Are Leaders
Two FUN Book Ideas
Sheridan Elementary

MAGIC OF COOPERATION!


PROMOTIONAL ITEMS
Conflict 1 Sheeter
Conflict Ad Cuts
Conflict Legal Poster
Cooperation Press Release
SOCIAL MEDIA
Facebook & Linked IN ad
Snapchat Chatter
Twitter Tweets
TEACHER PACKET
4 Styles of Handling Conflict
Activity Corner
Answer Key Word FInd
Bully Worksheet
Conflict Bookmarks
Cooperation Puzzle Sheet
Cooperation Trick Sheet
Cooperation word find
Home Activities
I'm A Kid and I Care!
Magic Steps & Rules
Online Resources
Parent Letter
Program Evaluation
Quick Activities
Resolving Conflicts - Conflict Resolution - Lesson Plans - Elementary - Character Education
Teacher letter
Teacher Packet Evaluation
Vocabulary Words
IF YOU HAVE ANY QUESTIONS OR CONCERNS PLEASE DON'T HESITATE TO CONTACT BRIAN RICHARDS IN ANY OF THE WAYS LISTED BELOW: